Rising Rates Cause Loan Demand to Teeter
Mortgage rates were on the rise for the second consecutive week, causing some borrowers to show reluctance. Total mortgage application activity—which reflects both refinancing and home purchase demand—dropped 2.6 percent last week, the Mortgage Bankers Association reported Wednesday. Nevertheless, mortgage volume remains 6.6 percent higher than the same week a year ago.
"Rates moved higher last week driven by concerns over a weaker U.S. dollar, signs of more robust growth and rising rates abroad, and moderately strong fourth-quarter domestic growth," says MBA economist Joel Kan.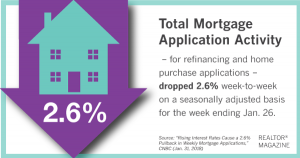 Broken out, applications to refinance a home loan dropped 3 percent during the week, but are still 3 percent higher than a year ago. Refinancing applications tend to be more sensitive to rate changes than home buying applications. Applications to buy a home also dropped 3 percent last week, but remain 10 percent higher than a year ago.
The MBA reported that the average 30-year fixed-rate mortgage rate was 4.41 percent last week, the highest level since March. The 15-year fixed rate and the FHA rate were at their highest levels since 2011 and 2013, respectively.
Source: "Rising Interest Rates Cause a 2.6% Pullback in Weekly Mortgage Applications," CNBC (Jan. 31, 2018)
Daily Real Estate News | Wednesday, January 31, 2018