Spring Has Finally Sprung on Loan Demand
The spring home buying season has gotten off to a slow start, at least based on the number of borrowers taking out home mortgages. However, that may be changing: Mortgage applications rose 4.9 percent last week compared to the previous week, the Mortgage Bankers Association reported Wednesday. Both refinance and purchase applications posted increases, even as mortgage rates remained largely in a holding pattern.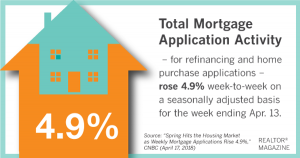 Applications to refinance rose 4 percent during the week, but remain 10 percent lower than a year ago when interest rates were lower. Applications to purchase a home surged 6 percent for the week and are now 10 percent higher than a year ago, the MBA reports. That also marks the strongest reading since January on the index for purchase applications.
The average 30-year fixed-rate mortgage was 4.66 percent, unchanged from the previous week, the MBA reports.
"Rates were roughly flat compared to last week, as the downward pressure of geopolitical uncertainty offset the upward pressure of higher inflation and Fed minutes that signaled greater certainty of rate hikes this year," says Joel Kan, an MBA economist.
Economists did warn that if mortgage rates move higher, more buyers may be priced out of homeownership. Buyer demand remains strong but rising costs could force buyers to look for less expensive homes, which are in short supply, CNBC reports.
Source: "Spring Hits the Housing Market as Weekly Mortgage Applications Rise 4.9%," CNBC (April 17, 2018)
Daily Real Estate News | Wednesday, April 18, 2018