Highest Rates in 5 Years Prompt Pullback
Would-be home buyers and refinancing homeowners both receded from the mortgage market last week as mortgage rates surged to their highest averages in nearly five years. The Mortgage Bankers Association's seasonally adjusted index showed that total application volume, which includes home purchases and refinances, dropped 2.5 percent last week and are now 3.3 percent lower than a year ago.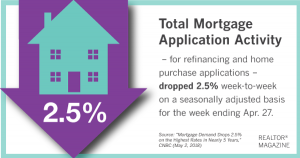 Refinance volume took most of the hit, dropping 4 percent last week compared to the previous week. Refinance volume is now 15 percent below a year ago. Borrowers who wish to refinance tend to be more rate-sensitive than home shoppers.
Applications to buy a home still dropped 2 percent last week. Purchase applications, however, remain 5 percent higher than a year ago.
The average for a 30-year fixed-rate mortgage was 4.80 percent last week, the highest level since September 2013, the MBA reports. The share of adjustable-rate mortgages continues to rise in the lending market. ARM activity rose to 6.7 percent of the total applications. ARMs offer lower introductory rates, usually for a set time period, before rising.
The market will closely be watching the Federal Reserve's meeting on Wednesday.
"While the Fed is not even remotely expected to hike rates again at this meeting, investors are always tuned in to the verbiage of the announcement in case it offers clues about the future policy path," Matthew Graham, chief operating officer at Mortgage News Daily, told CNBC.
Source: "Mortgage Demand Drops 2.5% on the Highest Rates in Nearly 5 Years," CNBC (May 2, 2018)
Daily Real Estate News | Wednesday, May 02, 2018