Home Buyers in a Rush to Beat Higher Rates
Mortgage rates are moving higher, and that has some home shoppers rushing to locking in rates before they edge up even more.
Mortgage applications for refinancings and home purchases increased 4.5 percent last week compared to the previous week on a seasonally adjusted basis, the Mortgage Bankers Association reported Wednesday. Loan applications are now 6.1 percent higher than the same week a year ago.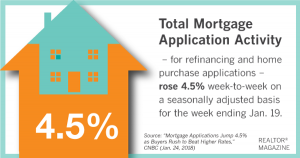 Broken out, applications to purchase a home surged 6 percent during the week and reached their highest level since April 2010, the MBA reports. Loan applications for home purchases are now 7 percent higher than the same week a year ago.
"A combination of being left on the sideline last summer due to a lack of inventory for sale and the prospect of slowly rising interest rates over the near term appears to have buyers in a hurry to start the spring buying season," says Lynn Fisher, the MBA's vice president of research and economics.
Mortgage applications to refinance a home increased 1 percent for the week. Typically, refinance applications move lower when interest rates rise, but borrowers are showing some concern for missing an opportunity to refinance at lower rates.
The 30-year fixed-rate mortgage averaged 4.36 percent during the week, its highest average since March, the MBA reports.
"The increases that we've seen so far have only gotten people off the couch and into the market," Glenn Kelman, CEO of Redfin, told CNBC. "People are worrying that they need to hurry and buy a house now before rates go up further."
Source: "Mortgage Applications Jump 4.5% as Buyers Rush to Beat Higher Rates," CNBC (Jan. 24, 2018)
Daily Real Estate News | Wednesday, January 24, 2018