Fall Cleaning Checklist & Free Printable
Free Printable Cleaning Schedule for Fall.
Fall cleaning checklist? I know everyone is always talking about spring cleaning. But since I'm a gardener I've always been more partial to fall cleaning than spring cleaning. Since in spring I'm usually busy getting my garden ready! Plus I like knowing that I'm going into the holidays with my home clean, tidy, and ready for guests. So before you start putting out your fall decor and getting your home nice and cozy for the cooler weather ahead, give your home a deep clean with this Fall Cleaning Checklist! A printable version is available for your convenience at the end of this post.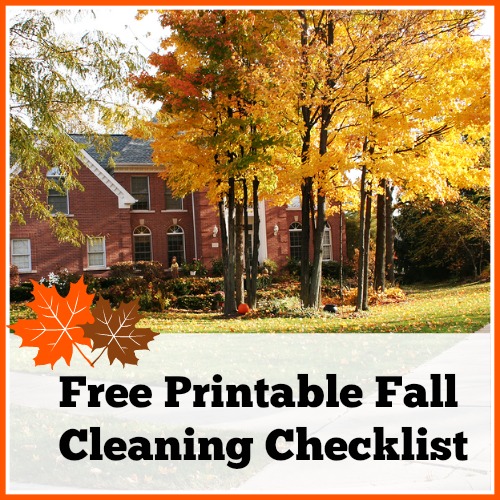 Disclosure: This post may contain affiliate links to Amazon and/or Etsy, which means that I may earn a small commission from some of the links in this post. Please see our Disclosure Page for more information.
Don't try to do everything on the checklist in a day or two. Give yourself some time and break down the cleaning schedule into zones or just try to do one or two tasks a day. Don't forget to get the family involved – everyone can help with autumn cleaning of the house!
Fall Cleaning Checklist & Free Printable
Are you wondering if now is the time to start fall cleaning, or if you're too early or too late? It's actually easy to figure out when fall technically is, as it's the time between the fall equinox and winter solstice. But based on where you live, that timeline could actually be too late in the year or too long (in the northern hemisphere, the fall equinox is usually around September 22nd and the the winter solstice is usually around December 21st). What I usually use as a cut-off date is Thanksgiving, since it's at the end of November. So for me, from the fall equinox (in September) to Thanksgiving (in November) is fall, and after that until the spring equinox (in March) is winter. That may not be technically correct, but it's more accurate for cleaning purposes. After Thanksgiving, I move on to my winter cleaning checklist.
Want to easily keep your home clean year-round?
Then you need our printable Cleaning Binder!
It's full of handy cleaning schedules to make it easy to keep your home neat!
General Home Maintenance
Have your heating system serviced
Have your fireplace chimney cleaned
Winterize your pool (here are tips for above ground pools, and here are tips for in-ground pools)
Store your patio furniture
Clean your gutters (here are gutter cleaning tips)
Test your smoke alarms and carbon monoxide alarms
Wash all your windows (you can use our all-natural streak-free DIY window cleaner)
Clean and install storm windows and doors
Sweep around the front door area removing cobwebs and change out your door mat to a fall themed one